YLSCH-RBB® Rubber Accelerator ADC-75 is a mixture of 75% Azodicarbonamide and 25% EPDM/EVA/SBR binder.
YLSCH-RBB® ADC-75 is mainly used as an accelerator or cross-linking agent in the production of rubber products to improve the properties of rubber. Specific uses and functions include:
Accelerate curing: ADC-75 particles are often used to accelerate the vulcanization or cross-linking process of rubber. Vulcanization is an important rubber processing process. By cross-linking rubber chains, the elasticity, hardness and wear resistance of rubber can be increased. As an accelerator, azodicarbonamide helps accelerate the vulcanization reaction and reduce the vulcanization time.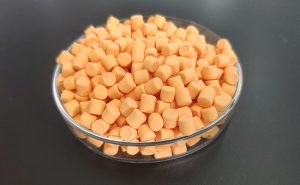 Improve thermal properties: The addition of azodicarbonamide can improve the heat resistance of rubber products, allowing them to maintain stability and strength in high temperature environments. This is important for manufacturing rubber products that need to withstand high temperatures, such as car tires, seals and pipes.
Improved wear resistance: Azodicarbonamide can improve the wear resistance of rubber, making it more suitable for applications that require wear resistance, such as tires, conveyor belts and mechanical seals.
Adjust the hardness: By adjusting the amount of azodicarbonamide used, the hardness of rubber products can be changed to meet different application needs. This makes it widely used in various types of rubber products.
Compared to traditional ADC powders, YLSCH-RBB® ADC-75GE allows:
Dust free products with 6-8µm mean size grains of ADC, production environment improver.
Lower decomposition temperature and effective guarantee of activity of ADC due to pre-dispersed masterbatch and special formula.
Tack free products at room temperature, convenience and accuracy on ingredients.
Lower Mooney viscosity at lower temperature (50℃), higher quality of dispersion, homogeneous apertures of foam products.
Wider compatibility with other elastomers.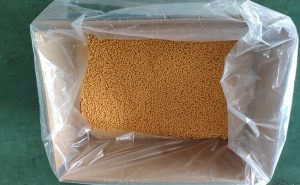 YLSCH-RBB® Pre-dispersed Rubber Chemicals Masterbatch range:
Thiazole, Thiuram, Dithiocarbamate, Guandine and Thiourea
Accelerators, CBS-80, CTP-80,DPG-80, MBT-80, MBTS-75,TBBS-75,
TBzTD-70, TDEC-75, TMTD-80, ZBEC-70 etc
2.Sulfur and Insoluble Sulfur, S-80, IS60-75, IS90-65, DTDM-80, HMDC-70 etc.
3.Antidegradant, MBI-80, MMBI-70, NDBC-70 etc.
4.Scorching Retarders, CTP-80, Retarder E-80 etc.
5.Foaming Agent, ADC-75, OBSH-75, HUD, LDU, DPT etc.
6.Eco-friendly Accelerator, ZDTP-50, TP-50, Retarder E-80, ZBEC-70, TBzTD-70, TiBTD-80 etc.
If you would like to know more about Rubber Accelerator ADC-75, please feel free to contact us.