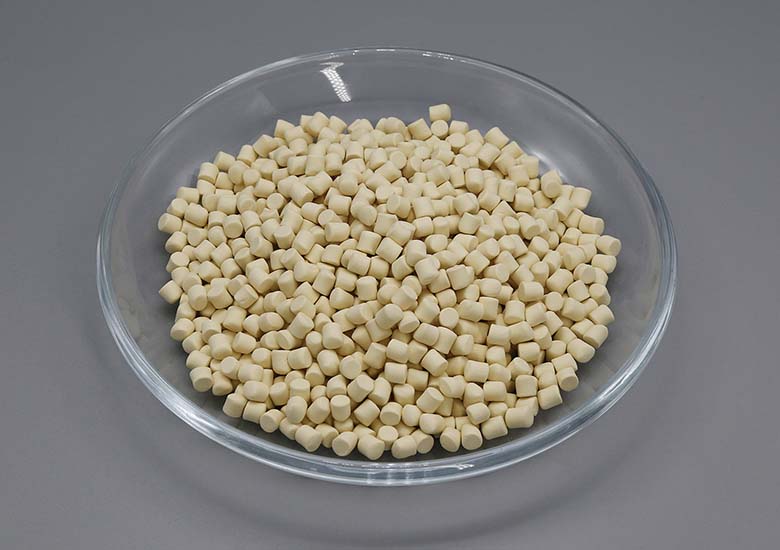 ---
Foaming Agent ADC
---
CHEMICAL NAME:
Azodicarbonamide
MOLECULAR FORMULA:
C
2
H
4
N
4
O
2
MOLECULAR WEIGHT:
116.08
CAS NO:
123-77-3
CHEMICAL STRUCTURE:

Active Content(%)
75
Carrier
SBR
Appearance
Yellow Granules
Melting Point
220-225℃ min
Gas Evolution (ml/g)
160
Ash Content
0.1% max
Density(g/Cm³)
1.35
Mean grain size
12μm max
38µm Sieve Residue
0.1% max
Composition
Mixture of 75% Azodicarbonamide and 25% polymer and dispersing agent
※Binder type can be customized. Except SBR, others binders, such as EPDM, NBR also can be available for.
---
PROPERTIES:
---
ADC is a nitrogenous organic foaming agent for various rubbers such as CR, EPDM, IIR, NBR(NBR/PVC) and SBR, especially for tiny and uniform pored products. ADC powder has a relatively high foaming temperature (200-210℃), which can be effectively reduced by addition of small amount of foaming activators. It will not promote abnormal odor of foaming products.
---
APPLICATION:
---
Various foam rubber products.
---
PACKING & STORAGE:
---
Net weight 25kg/Carton lined PE bag; Net 600 kg/pallet.
Shelf-life: 1 year in its original packaging on conditions of lower temperature(< 35℃) and drying(< 50% RH)

---
Compared to traditional ADC powders, YLSCH ADC-75 allows:
Dust free products with 6-8µm mean size grains of ADC, production environment improver.
Lower decomposition temperature and effective guarantee of activity of ADC due to pre-dispersed masterbatch and special formula.
Tack free products at room temperature, convenience and accuracy on ingredients.
Lower Mooney viscosity at lower temperature (50℃), higher quality of dispersion, homogeneous apertures of foam products.
Wider compatibility with other elastomers.