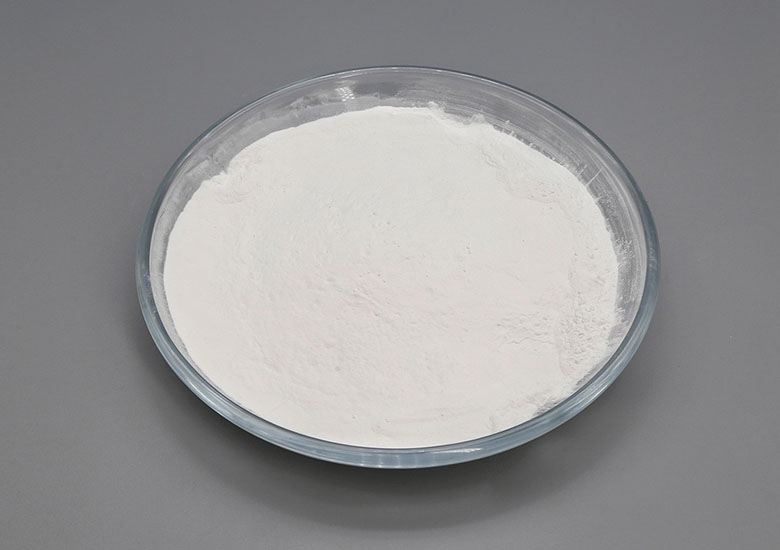 ---
Rubber Accelerator ZEPC
---
CHEMICAL NAME:
Zinc N-ethyl-dithiocarbamate
MOLECULAR FORMULA:
C
18
H
20
N
2
S
4
Z
n
MOLECULAR WEIGHT:
458.02
CAS NO.:
14634-93-6
CHEMICAL STRUCTURE:

ITEM
POWDER
OILED POWDER
GRANULE
Appearance
White powder/granule
Initial melting point
200.0℃ min
200.0℃ min
200.0℃ min
Loss on drying
0.30% max
0.50% max
0.30% max
Ash
0.30% max
0.30% max
0.30% max
Residue on 150μm sieve
0.10% max
0.10% max
/
Residue on 63μm sieve
0.50% max
0.50% max
/
Additive
/
0.1%-2.0%
/
Granule diameter
/
/
0.6-2.5mm
---
PROPERTIES:
---
White powder/granule.No smell, no taste, no poison. The density is 1.50g/cm3. Soluble in chloroform, hot benzene, slightly soluble in gasoline, benzene, toluene, hot alcohol, insoluble in acetone, CCl4, alcohol and water.
---
APPLICATION:
---
ZEPC has been developed as a safe ultra speed accelerator,with better anti-scorching ability when used with MBTS.
In the range of 80-125℃,ZEPC is suitable for NR, SBR and other types of rubber vulcanization. Especially for latex vulcanization, in the storage process, ZEPC has little effect on latex viscosity.
No pollution,No color-changing,odorless,tasteless,non-toxic.
ZEPC can be used to make the food contact latex products and transparent and color products, medical products, latex model products, impregnated products, latex sponge, and so on.
---
PACKING & LOADING:
---
Packed in Kraft paper bags of 25kgs net each with P.E. liner inside, or jumbo bags.
12Mt per 20'GP, 24Mt per 40'GP, palletized.
---
SHIPPING MARKS:
---
Neutral export standard. Also can be customized.
---
STORAGE VALIDITY:
---
12 months.