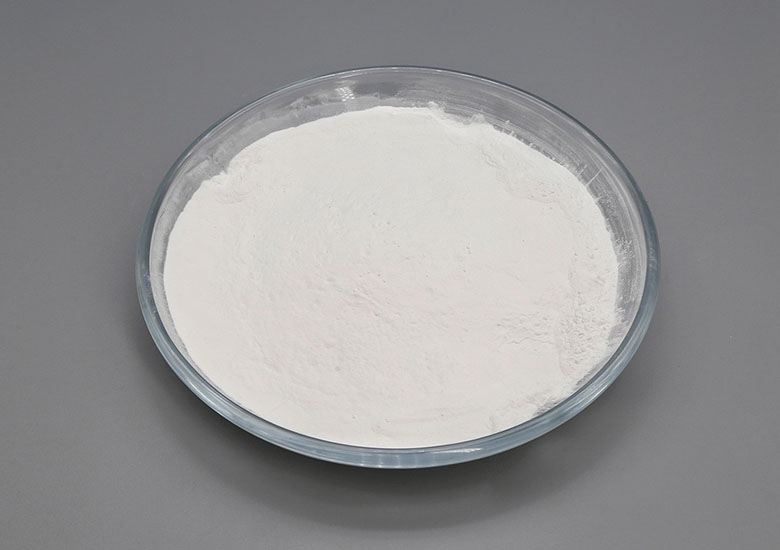 ---
Rubber Accelerator ZDMC
---
CHEMICAL NAME:
Zinc N-ethyl-N-phenyldithiocarbamate
MOLECULAR FORMULA:
C
6
H
12
N
2
S
4
Z
n
MOLECULAR WEIGHT:
305.4
CAS NO.:
137-30-4
CHEMICAL STRUCTURE:

ITEM
POWDER
OILED POWDER
GRANULE
Appearance
white powder (granule)
Initial melting point
240.0℃ min
240.0℃ min
240.0℃ min
Loss on drying
0.50% max
0.50% max
0.50% max
Zinc content
20.0-23.0% max
20.0-23.0% max
20.0-23.0% max
Residue on 150μm sieve
0.10% max
0.10% max
/
Density at 20℃
1.66 max
1.66 max
1.66 max
Soluble zinc content
0.0001
0.0001
0.0001
Additive
/
1.0%-2.0%
0.6%-2.5%
---
PROPERTIES:
---
White powder/granule,inodorous.The density is 1.66g/cm3.Soluble in hot chloroform and benzene, insoluble in acetone, carbon tetrachloride, alcohol and water, a little soluble in gasoline, benzene, methyl benzene and hot alcohol.
---
APPLICATION:
---
ZDMC is a secondary ultra accelerator for thiazole and sulfenamide cure systems for general purpose polymers (NR, SBR, IIR, EPDM).
It can also be used as a primary accelerator in some continuous cure applicants.
ZDMC is widely used in both natural and synthetic lattices.
As tasteless, no pollution, no discoloration, therefore applicable to the tape, food and pharmaceutical use rubber products. In the United States, ZDMC has been approved by the FDA.
---
PACKING & LOADING:
---
Packed in Kraft paper bags of 25kgs net each with P.E. liner inside, or jumbo bags.
12Mt per 20'GP, 24Mt per 40'GP, palletized.
---
SHIPPING MARKS:
---
Neutral export standard. Also can be customized.
---
STORAGE VALIDITY:
---
12 months.