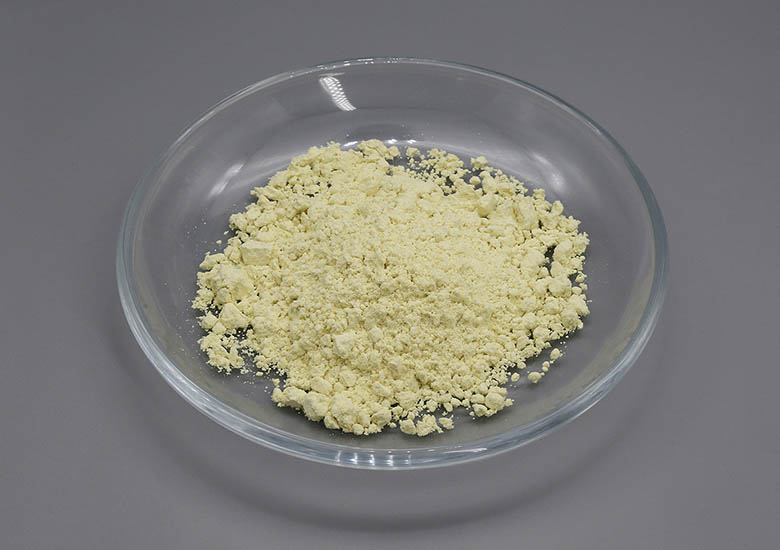 ---
Rubber Accelerator TMTM
---
CHEMICAL NAME:
Tetramethyl thiuram monosulfide
MOLECULAR FORMULA:
C
6
H
12
N
2
S
3
MOLECULAR WEIGHT:
208.4
CAS NO.:
97-74-5
CHEMICAL STRUCTURE:
ITEM
POWDER
OILED POWDER
GRANULE
Appearance (visual inspection):
yellow powder (granule)
Initial M.P. ℃≥
105.0℃ min
105.0℃ min
105.0℃ min
loss on drying %≤:
0.30% max
0.50% max
0.30% max
Ash content %≤:
0.30% max
0.30% max
0.30% max
Residues(150μm) %≤:
0.10% max
0.10% max
/
Residue on 63μm sieve %≤:
0.50% max
0.50% max
/
Additive
/
1.0%-2.0%
1.0-3.0mm
---
PROPERTIES:
---
TMTM is yellow powder/granule. Density is 1.37-1.40. Soluble in benzene, acetone, CH2Cl2, CS2, toluene, partially soluble in alcohol and diethyl ether. Insoluble in gasoline and water. Stabilization for storage.
---
APPLICATION:
---
Generally used as a secondary accelerator or as a booster for sulphenamides to achieve faster cure rate. Distinguished by very good processing safety in comparison with other thiurams high curing activity and no discoloration. No cure activity in the absence of added elemental sulphur.
An excellent accelerator for polychloroperene in association with DPG and sulphur.
Its critical temperature is 121.0℃.
---
PACKING & LOADING:
---
Packed in Kraft paper bags of 20kgs/25kgs net each with P.E. liner inside
Granule Form: 10Mt per 20'GP, 20Mt per 40'GP, palletized
Powder Form: 8Mt per 20'GP, 16Mt per 40'GP palletized
---
SHIPPING MARKS:
---
Neutral export standard. Also can be customized.
---
STORAGE VALIDITY:
---
12 months.