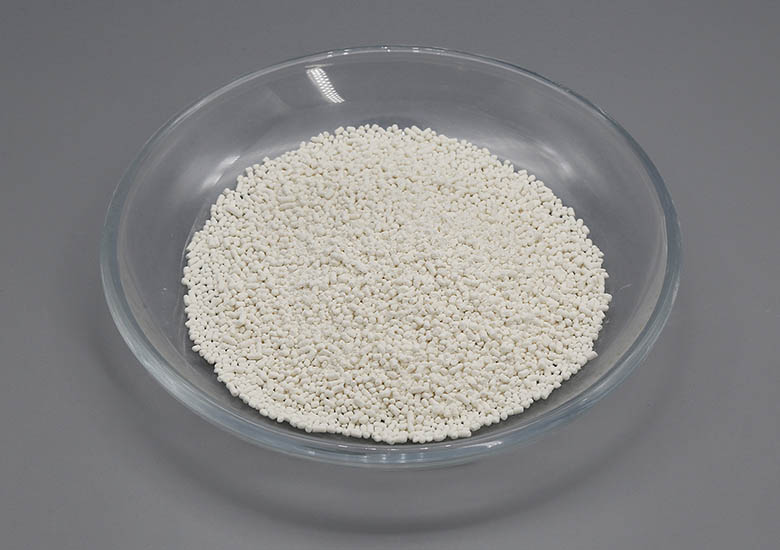 ---
Rubber Accelerator TBBS
---
CHEMICAL NAME:
N-Tertiarybutyl-2-benzothiazole sulfenamide
MOLECULAR FORMULA:
C
11
H
14
N
2
S
2
MOLECULAR WEIGHT:
238.37
CAS NO.:
95-31-8
CHEMICAL STRUCTURE:

ITEM
POWDER
OILED POWDER
GRANULE
Appearance
White powder (granule)
Initial melting point
105.0℃ min
105.0℃ min
105.0℃ min
Loss on drying
0.30% max
0.50% max
0.30% max
Ash
0.30% max
0.30% max
0.30% max
Residue on 150μm sieve
0.10% max
0.10% max
/
Residue on 63μm sieve
0.50% max
0.50% max
/
Additive
/
0.1%-2.0%
/
Granule diameter
/
/
1.0-3.0mm
---
PROPERTIES:
---
White powder/granule.The density is 1.26-1.32.it is soluble in Chloroform, Benzene, and Alcohol.and insoluble in water, gasoline, and acid/alkali with lower concentration.
---
APPLICATION:
---
In natural and synthetic rubber tire compounds;TBBS is normally used alone or with small quantities of secondary accelerators in combination with sulfur.
TBBS is also used in industrial rubber products with higher levels of secondary accelerators, such as the TMTD to obtain faster vulcanization cycles and improved aging resistance.
Widely used in all sorts of rubber products and tires, especially the meridian tires.
The product is an excellent delayed accelerator with more delayed action and great curing rate and other advantages.
---
PACKING & LOADING:
---
Packed in Kraft paper bags of 25kgs net each with P.E. liner inside, or jumbo bags.
12Mt per 20'GP, 24Mt per 40'GP, palletized.
---
SHIPPING MARKS:
---
Neutral export standard. Also can be customized.
---
STORAGE VALIDITY:
---
12 months.