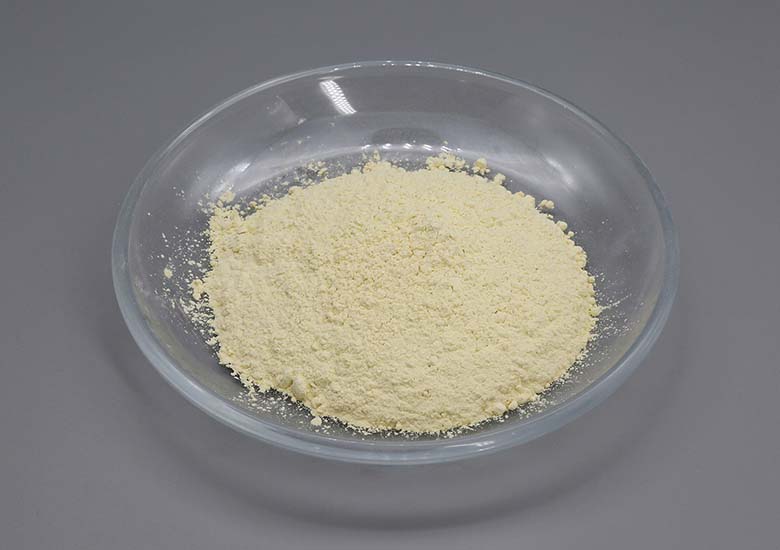 ---
Rubber Accelerator MBT
---
CHEMICAL NAME:
2-Mercaptobenzothiazole
MOLECULAR FORMULA:
C
3
H
6
N
2
S
MOLECULAR WEIGHT:
167.26
CAS NO:
149-30-4
CHEMICAL STRUCTURE:

ITEM
POWDER
OILED POWDER
GRANULE
Appearance
Light yellow powder (granule)
Initial melting point
171.0℃ min
171.0℃ min
171.0℃ min
Loss on drying
0.30% max
0.50% max
0.30% max
Ash
0.30% max
0.30% max
0.30% max
Residue on 150μm sieve
0.10% max
0.10% max
/
Residue on 63μm sieve
0.50% max
0.50% max
/
Additive
/
1.0%-2.0%
/
Granule diameter
/
/
1.0-3.0mm
---
PROPERTIES:
---
MBT is light yellow powder with a little bit osmyl and taste bitter. Density is 1.42-1.52
Soluble in ethyl acetate, ethanol, solution of NaOH and Na2CO3. Insoluble in benzene, water and gasoline. Good storage stability, lower explosion limit is 21g/m3.
---
APPLICATION:
---
MBT is used as an acid accelerator currently, and a medium fast primary accelerator. Imparts excellent aging properties when used both alone and in combination with DM, TMTD and many other basic accelerators for higher activity.
Its accelerative temperature is low and easily be dispersed with lower pollution.
Mainly used in the manufacture of tyres, tubes, foot wear, rubber belts and hoses etc.
---
PACKING & LOADING:
---
Packed in Kraft paper bags of 25kgs net each with P.E. liner inside, or jumbo bags.
Granule Form: 10Mt per 20'GP, 20Mt per 40'GP, palletized.
Powder Form: 8Mt per 20'GP, 16Mt per 40'GP, palletized.
---
SHIPPING MARKS:
---
Neutral export standard. Also can be customized.
---
STORAGE VALIDITY:
---
12 months.