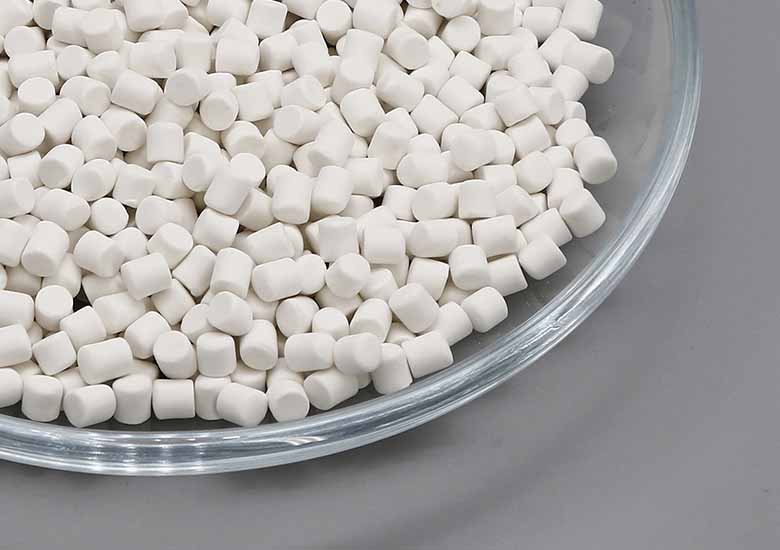 ---
ZAT-70
---
YLSCH-RBB®ZAT-70GE
FUNCTION: Rubber accelerator
| | |
| --- | --- |
| Composition | 70% Dithiocarbamate phosphate 30% Rubber carrier, Dispersant |
| Appearance | Gray to White Granules |
| Density  (20 °C)        | About 1.2g/cm3 |
| Sulfur Content | About 13% |
| Security character | Please refer to related SDS |
---
PROPERTIES:
---
ZAT-70 in EPDM can provide fast curing when used together with sulfur, thiazole and thiuram accelerator.
Vulcanizator used with ZAT - 70 have a good elastic modulus, good compression set value and the high degree of crosslinking.
It won't produce carcinogenic nitrosamines and suitable for NR SBR IR NBR IIR effective vulcanizator, usually won't appear the phenomenon of bloom and fade.
ZAT-70 have excellent anti-reversion performance.
Then curing speed of ZAT-70 is faster than TP-50.
---
APPLICATION:
---
Mould and extrusion products, such as rubber hose and fenders, etc.
---
PACKING:
---
Net weight 25kg/PE bags lined carton; Net weight 600 kg/pallet.
---
STORAGE:
---
Stored in a dry and cool place.
Shelf-life: 1 year in its original packaging.
---
DISPOSITION:
---
Chemical additives in the rubber processing work area suggest convulsions exhaust, further disposal data refer to YLSCH-RBB® ZAT - 70 safety data sheets.