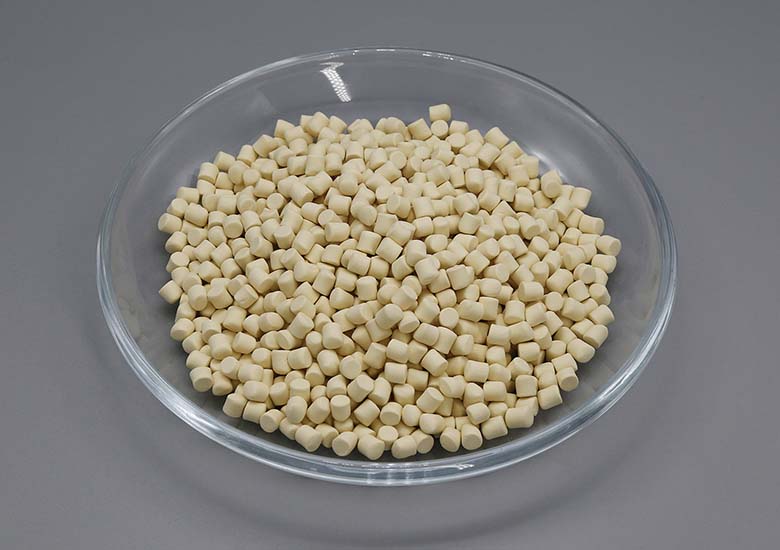 ---
TETD-75/80
---
CHEMICAL NAME:
Tetraethylthiuram
MOLECULAR FORMULA:
C
10
H
20
N
2
S
4
MOLECULAR WEIGHT:
296.54
CAS NO:
97-77-8
CHEMICAL STRUCTURE:

Active Content(%)
80
Carrier
EPDM
Appearance
Light-Yellow Granules
Melting Point
66℃ min
Sulfur Content
32
Ash Content
0.3% max
Density(g/Cm³)
1.02
Heating loss content
0.5% max
Composition
Mixture of 75% Tetraethylthiuram and 25% polymer and dispersing agent
※Binder type can be customized. Except EPDM, others binders, such as SBR, NBR also can be available for.
---
PROPERTIES:
---
TETD is an ultra accelerator for NR, SBR, NBR, IIR, BR and latex. It is also a vulcanizer and its effective sulfur content up to 41%.
---
APPLICATION:
---
It applies to production of cables, tapes, shoes, tyre tubes and colorful products.
---
PACKING & STORAGE:
---
Net weight 25kg/Carton lined PE bag; Net 600 kg/pallet.
Shelf-life: 1 year in its original packaging on conditions of lower temperature(< 35℃) and drying(< 50% RH)
---
Compared to traditional TETD powders, YLSCH-RBB® TETD-80GE F200 allows::
---
Dust free products with a complete filtration up to 100µm, no skin sensitization, health guard of operators.
Effective guarantee of activity of TETD due to pre-dispersed masterbatch.
Tack free products at room temperature, convenience and accuracy on ingredients.
Lower Mooney viscosity at lower temperature (50℃), higher quality of dispersion.
Impurity free, blocked filter free of extrusive products, scrap rate reduction and higher productivity thanks to filtration.
Wider compatibility with other elastomers.