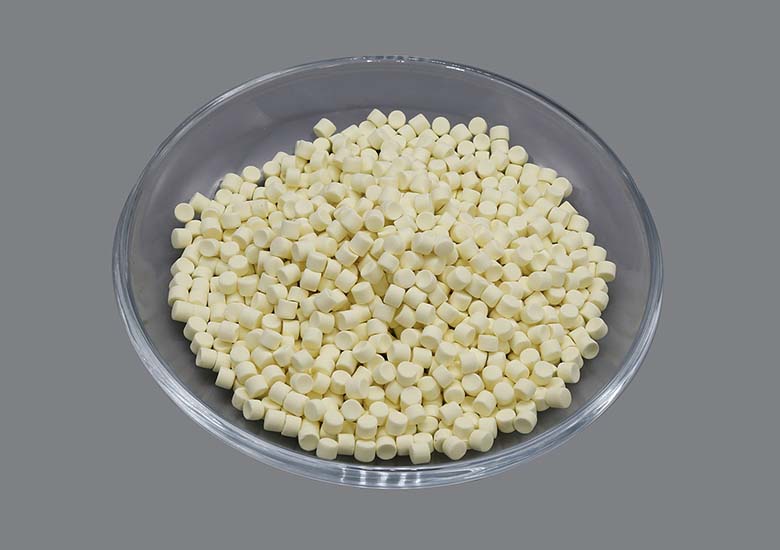 ---
TDEC-75
---
CHEMICAL NAME:
Tellurium diethyldithiocarbamate
MOLECULAR FORMULA:
C
20
H
40
N
4
S
8
Te
MOLECULAR WEIGHT:
720.68
CAS NO:
20941-65-5
CHEMICAL STRUCTURE:

Active Content(%)
75
Carrier
EPDM
Appearance
Orange-Yellow Granules
Initial Melting Point
108℃ min
Sulfur Content
26.0
Purity
98%
Density(g/Cm³)
1.23
Tellurium content
16.5-19.0%
 
 
Heating loss content
0.5% max
 
 
63μm sieve residue
0.5% max
Composition
Mixture of 75% Tellurium diethyldithiocarbamate and 25% polymer and dispersing agent
※Binder type can be customized. Except EPDM, others binders, such as SBR,NBR also can be available for.
---
PROPERTIES:
---
TDEC combined with thiazoles, thurams and dithiocarbamates accelerators can accelerate sulfuration of EPDM and IIR. A little TDEC can shorten the sulfuration time. Moreover, it is particularly suitable for high oil content soft rubber compounds such as low-hardness solid EPDM seals or spongy seals due to reduction of sulfuration rate by a great deal of softening oil.
---
APPLICATION:
---
Vehicle and building seals, vehicle hoses, steamproof & acidproof hoses, cable jacket, insulated products.
---
DOSAGE:
---
Max 0.5 phr to avoid blooming.
---
PACKING & STORAGE:
---
Net weight 25kg/PE bags lined carton; Net weight 600 kg/pallet.
Shelf-life: 1 year in its original packaging.
Stored in a dry and cool place.

---
Compared to traditional TDEC powders, YLSCH-RBB®TDEC-75GE F140 allows: :
---
Dust free products with a complete filtration up to 100µm, no skin sensitization, health guard of operators.
Effective guarantee of activity of TDEC due to pre-dispersed masterbatch.
Tack free products at room temperature, convenience and accuracy on ingredients.
Lower Mooney viscosity at lower temperature (50℃), higher quality of dispersion.
Impurity free, blocked filter free of extrusive products, scrap rate reduction and higher productivity thanks to filtration. Wider compatibility with other elastomers.