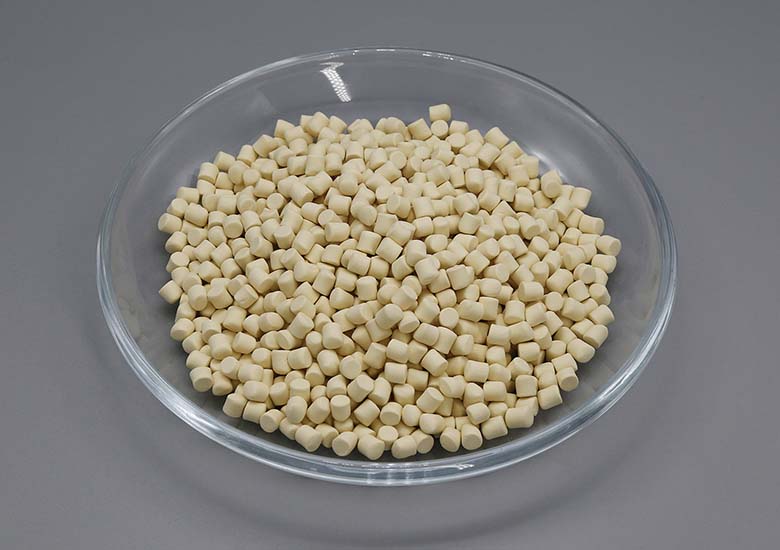 ---
Rubber Whitening TiO2-80
---
CHEMICAL NAME: Rutile titanium dioxide
MOLECULAR FORMULA: Ti O2
MOLECULAR WEIGHT: 79.87
CAS NO: 13463-67-7
CHEMICAL STRUCTURE:

Active Content(%)
80
Carrier
EPDM+BR
Appearance
White Granules
Melting Point
1840℃ min
Mesh
100
Heating Loss Content
0.3% max
Mooney Viscosity ML1+4 50℃
≤80
63µm Sieve Residue
0.05% max
Ash Content(%)
80
Density(g/Cm³)
2.45
Composition
Mixture of 80% titanium dioxide and 20% polymer and dispersing agent
Binder type can be customized. Except EPDM, others binders, such as SBR,NBR also can be available for.
---
APPLICATION:
---
TiO2-80 is used for white colorant in rubber and latex formulation which has high hiding power. The vulcanizate is resistant to acid and alkali, stable to sunshine and non-staining. It has reinforcement effect on silicon rubbers and as a inert filler in other rubber products。
---
PACKING & STORAGE:
---
Net weight 25kg/PE bags lined carton; Net weight 900 kg/pallet.
Shelf-life:12 months in its original packaging.
Stored in a dry and cool place.