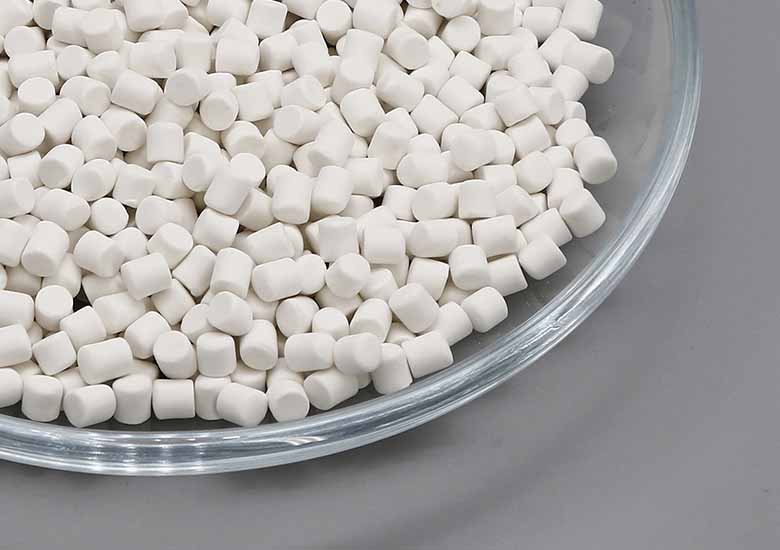 ---
Rubber Vulcanizing PVI-80
---
CHEMICAL NAME:
N-cyclohexylthiophthalimide
MOLECULAR FORMULA:
C
14
H
15
O
2
SN
MOLECULAR WEIGHT:
261.34
CAS NO:
17796-82-6
CHEMICAL STRUCTURE:

Active Content(%)
80
Carrier
SBR
Appearance
Grey-White Granules
Melting Point
89℃ min
Mesh
80
Ash Content
0.1%  max
Mooney Viscosity ML1+4 50℃
≤50
Heating Loss Content
0.5% max
Sulfur Element(%)
9.8
Density(g/Cm³)
1.15
Composition
Mixture of 80% N-cyclohexylthiophthalimide and 20% polymer and dispersing agent
Binder type can be customized. Except SBR, others binders, such as EPDM, NBR also can be available for.
---
APPLICATION:
---
PVI-80 is a scorch retader for NR and SR, which can be used together with all sulfenamide types or thiazole type accelerators to control process safety and avoid incipient cure, without any influence on vulcanization characteristics and cross-linking behavior. It can also obviously improve the stability of unvulcanized rubber in storage and decrease scrap rubber rate.
---
DOSAGE:
---
Usually 0.2-2.0phr, will be blooming if more than 5.0phr.
---
PACKING & STORAGE:
---
Net weight 25kg/PE bags lined carton; Net weight 600 kg/pallet.
Shelf-life:12 months in its original packaging.
Stored in a dry and cool place.