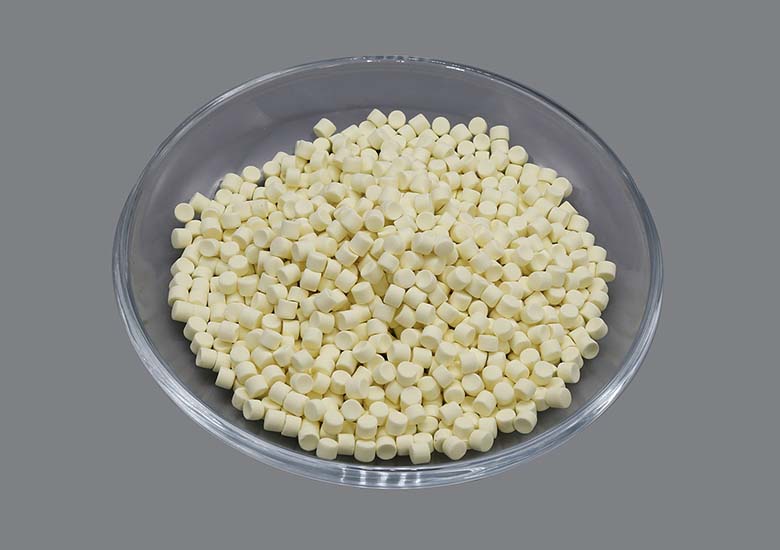 ---
Rubber Vulcanizator Insoluble Sulfur IS90-65
---
CHEMICAL NAME: 65% sulphur content
MOLECULAR FORMULA: Sn
CAS NO: 7704-34-9
CHEMICAL STRUCTURE:

Active Content(%)
65
Carrier
SBR
Appearance
Yellow Granules
Melting Point
114℃ min
Mesh
80
Ash Content
0.15% max
Mooney Viscosity ML1+4 50℃
≤70
Heating Loss Content
0.5% max
Sulfur Element(%)
90
Density(g/Cm³)
1.4
Composition
Mixture of insoluble sulphfur ,sulphfur ,polymer and dispersing agent
Binder type can be customized. Except SBR, others binders, such as EPDM, NBR also can be available for.
---
APPLICATION:
---
IS90-65 can avoid migration and blooming after mixing, therefore retaining the stability in storage of rubber compounds for both natural and synthetic rubber formulation. It should be added at the end of the mixing cycle at low temperature to avoid reversion from insoluble to soluble form.
---
DOSAGE:
---
1-5phr, depending on different use and features.
---
PACKING & STORAGE:
---
Net weight 25kg/PE bags lined carton; Net weight 600 kg/pallet.
Shelf-life:12 months in its original packaging.
Stored in a dry and cool place.