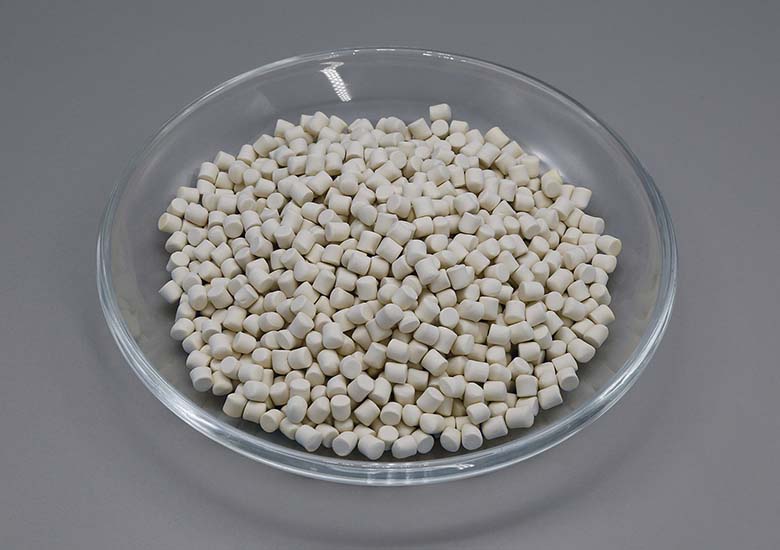 ---
Rubber Vulcanization Activator ZnO-80
---
CHEMICAL NAME: Zinc oxide
MOLECULAR FORMULA: ZnO
MOLECULAR WEIGHT: 81.39
CAS NO: 1314-13-2
CHEMICAL STRUCTURE:

Active Content(%)
80
Carrier
SBR+TPR
Appearance
White Granules
Melting Point
1975℃ min
Mesh
100
Loss on ignition (950℃,2h):
0.2% max
Mooney Viscosity ML1+4 50℃
≤90
Density(g/Cm³)
2.85
Ash Content(%)
83
Composition
A homogeneous mixture of Zinc Oxide and polymeric binder system at 80/20 ratio
Binder type can be customized. Except EPDM, others binders, such as SBR,NBR also can be available for.
---
APPLICATION:
---
The elastomer bound form of ZnO-80 ensure better physical properties and surface quality for extrusion profiles than powder form. The vulcanizates will obtain higher modulus and tensile strength, prevents scorch in chloroprene rubber compounds due to the localisation of powdered form zinc oxide.
---
PACKING & STORAGE:
---
Net weight 25kg/PE bags lined carton; Net weight 900 kg/pallet.
Shelf-life:12 months in its original packaging.
Stored in a dry and cool place.