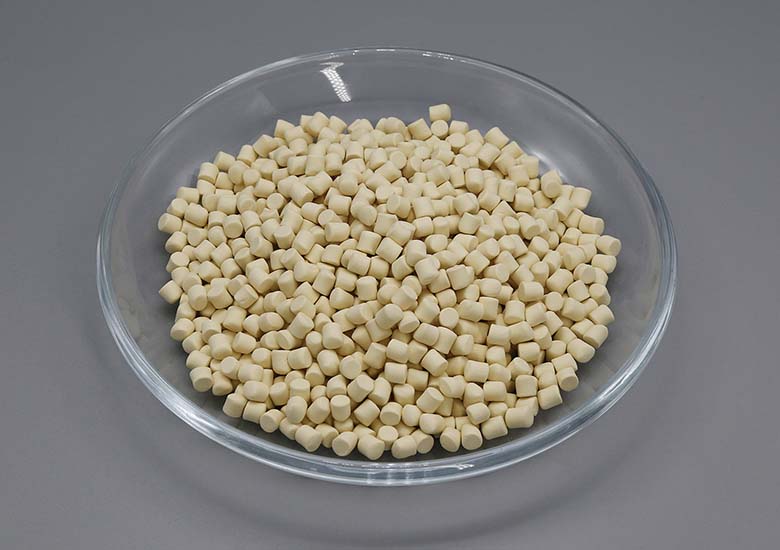 ---
Rubber Foaming Agent OBSH-75
---
CHEMICAL NAME:
Diphenyloxide-4,4'-disulph ohydrazide
MOLECULAR FORMULA:
C
12
H
14
N
4
O
5
S
2
MOLECULAR WEIGHT:
358.39
CAS NO:
80-51-3
CHEMICAL STRUCTURE:

Active Content(%)
75
Carrier
EPDM
Appearance
White to Grey-white Plate
Melting Point
150-164℃ min
Mesh
45μm sieve residue
0.5% max
Mooney Viscosity ML1+4 50℃
≤50
Heating Loss Content
0.8% max
Gas Evolution(ml/g)
95
Density(g/Cm³)
1.29
Composition
Mixture of 75% oxy-dibenzene sulphonyl hydrazine ether and 25% polymer and dispersing agent
Binder type can be customized. Except EPDM, others binders, such as SBR,NBR also can be available for.
---
APPLICATION:
---
OBSH-75 is maked by ultra-fine and homogeneous OBSH, together with rubber carrier, and it's more stable and safer than OBSH powder. OBSH-75 is using for the products which are orderless, tasteless, no pollution, no decoloration, fine and cellular structure products. As a blowing agent, OBSH-75 is used in all foaming products with character of foaming evenly, good physical property and stable. It can easily disperse in the rubber products and combined with other blowing agent in the compounds. OBSH-75 is non-toxic, with no pungent odour and it is suitable for automatic weighing to keep accuracy.
---
PACKING & STORAGE:
---
Net weight 25kg/PE bags lined carton; Net weight 600 kg/pallet.
Shelf-life: 12 months in its original packaging.
Stored in a dry and cool place.