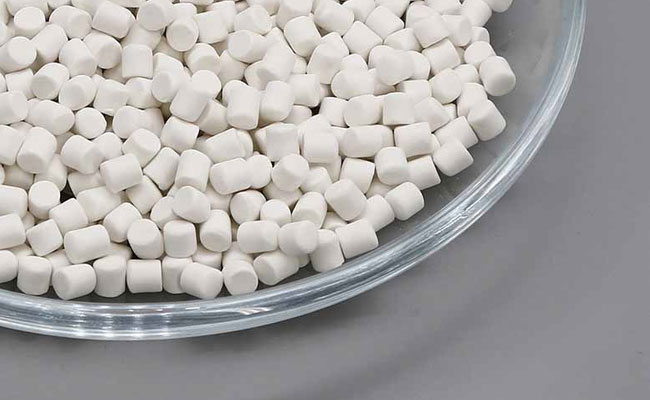 ---
Rubber Accelerator TBzTD-80
---
CHEMICAL NAME:
Tetrabenzylthiuram disulphide
MOLECULAR FORMULA:
C
30
H
28
N
2
S
4
MOLECULAR WEIGHT:
554.82
CAS NO.:
10591-85-2
CHEMICAL STRUCTURE:

Active Content(%)
80
Carrier
SBR
Appearance
Light Yellow Granules
Melting Point
128℃ min
Sulfur Element(%)
16.4
Ash Content
0.3% max
Density(g/Cm³)
1.12
Heating Loss Content
0.3% max
 
 
63µm Sieve Residue
0.5% max
 
 
Purity
98%min
Composition
Mixture of 80% Tetrabenzylthiuram disulphide and 20% polymer and dispersing agent
---
PROPERTIES:
---
TBzTD can lead to high processing safety and faster cure rate as an accelerator of natural rubber and synthetic rubber vulcanization. TBzTD satisfies requirements of"Technical Regulations for Dangerous Materials" TRGS 552 about toxicity of nitrosamines in Germany and not release carcinogenic nitrosamines during vulcanization. Addition of thiazoles or sulfenamides accelerators can slow the vulcanization, shorten scorching and vulcanization time and vulcanization without significant increases . It can be activated by alkaline accelerators such as aldehyde-amines and guanidines.
---
APPLICATION:
---
TBzTD is a safety secondary amine accelerator; can be substitute to the thiuram accelerator such as TMTD, in case the n-nitrosamines is a harmful substance. The dibenzyl nitrosoamine is not carcinogenic, according to published literature. Compared with TMTD, TBzTD is safety processing and has longer scorching time.
---
DOSAGE:
---
0.2-2.0phr with 0.9-2.8phr sulfur.
---
PACKING STORAGE & TRANSPORTATION:
---
Net weight 25kg/PE bags lined carton; Net weight 600kg/pallet.
Shelf-life : 1 year in its original packaging.
Stored in a dry and cool place.