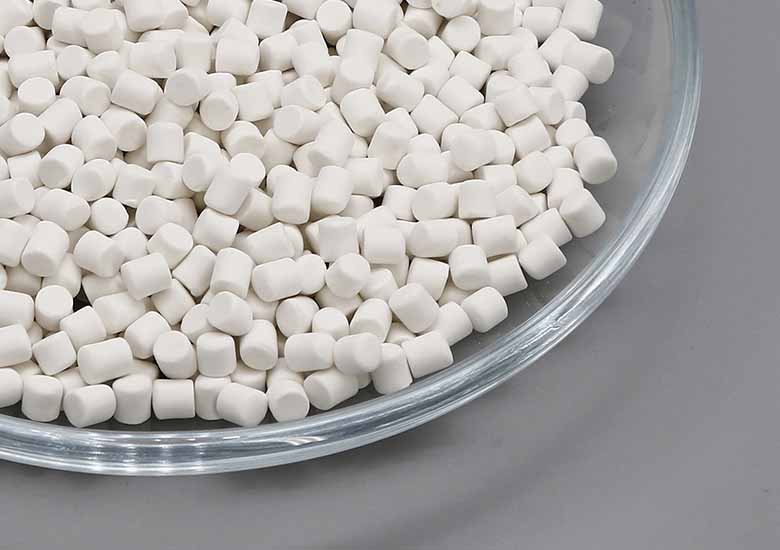 ---
Adhesive Agent Resorcinol-80
---
CHEMICAL NAME: Resorcinol
MOLECULAR FORMULA: C6 H6O2
MOLECULAR WEIGHT: 110.11
CAS NO: 108-46-3
CHEMICAL STRUCTURE:

Active Content(%)
80
Carrier
SBR
Appearance
Grey-White or Light-Red Granules
Melting Point
108℃
Mesh
80
Ash Content
0.2% max
Mooney Viscosity ML1+4 50℃
≤90
Heating Loss Content
0.5% max
Density(g/Cm³)
1.1
Composition
A homogeneous mixture of resorcinol and polymeric binder system at 80/20 ratio
Binder type can be customized. Except SBR, others binders, such as EPDM,NBR also can be available for.
---
APPLICATION:
---
Resorcinol-80 is a adhesive for the void-freely bonding of rubber, fiber and steel. It could produce phenol-formaldehyde resin during the vulcanization and able to avoid the disadvantage of crystal resorcinol fume vapor in the process of compound.
---
PACKING & STORAGE:
---
Net weight 25kg/PE bags lined carton; Net weight 600 kg/pallet.
Shelf-life: 12 months in its original packaging.
Stored in a dry and cool place.