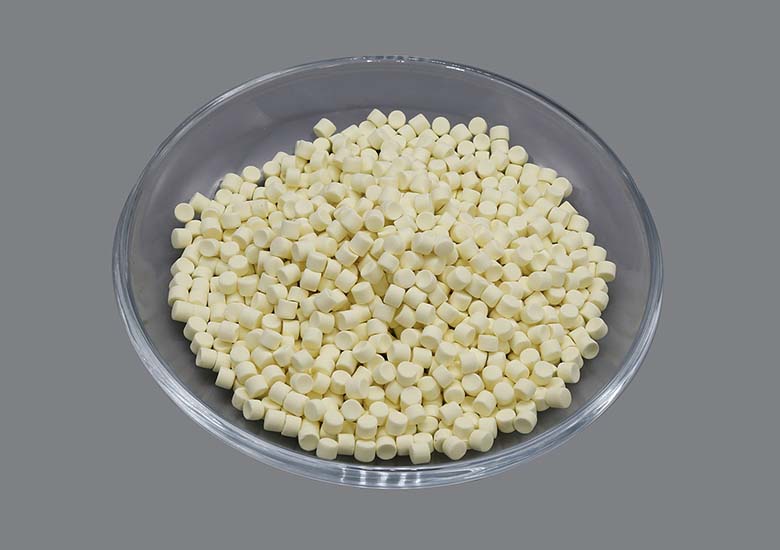 ---
Rubber Accelerator NOBS-75
---
CHEMICAL NAME: N-Oxydiethylene-2-benzothiazole sulfonamide
MOLECULAR FORMULA: C11H12N2S2O
MOLECULAR WEIGHT: 253.35
CAS NO: 102-77-2
CHEMICAL STRUCTURE:

Active Content(%)
75
Carrier
EPDM/EVA
Appearance
Light-Yellow Granules
Melting Point
80℃ min
Mesh
Ash Content
0.03% max
Mooney Viscosity ML1+4 50℃
≤50
Heating Loss Content
0.3% max
Density(g/Cm³)
1.15-1.25
Composition
75% N-Oxydiethylene-2-benzothiazole sulfonamide, 25% EPDM/EVA binder and dispersing agents
Binder type can be customized. Except EPDM/EVA, others binders, such as SBR,NBR also can be available for.
---
APPLICATION:
---
NOBS-75,An excellent delayed accelerator. The performance is similar as CZ with better scorch safety Widely used in NR, IR, SBR, NBR and EPDM. Can be used alone or with other vulcanization accelerators such as thiurams, guanidines and dithiocarbamates to improve the activity. Mainly used in manufacture of tires, shoes and belts.
---
DOSAGE:
---
Max 0.5phr to avoid blooming.
---
PACKING & STORAGE:
---
Net weight 25kg/carton lined PE bag; Net 600 kg/pallet.
Shelf-life: 12 months in its original packaging.
Stored in a dry and cool place.