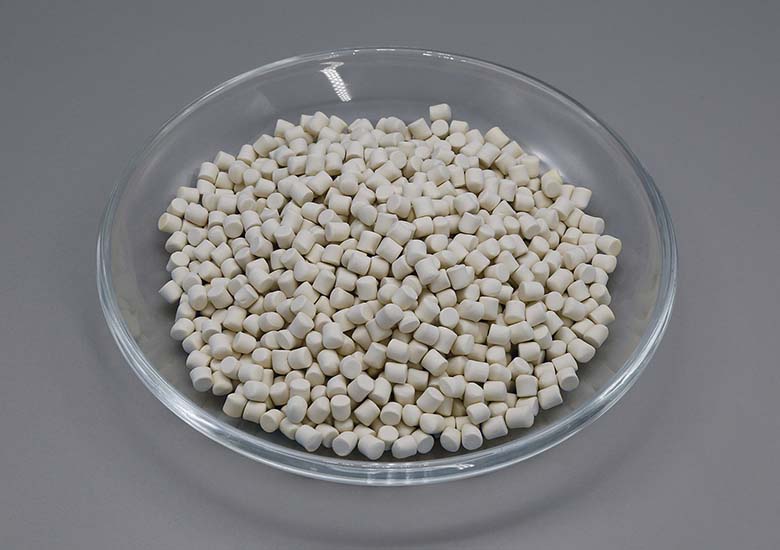 ---
Rubber Accelerator HEXA-80
---
CHEMICAL NAME:
Hexamethylene tetramine
MOLECULAR FORMULA:
C
18
H
36
N
2
S
4
Z
n
MOLECULAR WEIGHT:
474.1
CAS NO:
136-23-2
CHEMICAL STRUCTURE:

Active Content(%)
80
Carrier
SBR/TPR
Appearance
White Granules
Melting Point
Sublimated when heated.
Mesh
80
Ash Content
0.08% max
Mooney Viscosity ML1+4 50℃
≤60
Volatile Content
0.3% max
Sulfur Element(%)
30
63µm Sieve Residue
0.3% max
Density(g/Cm³)
1.13
Composition
A homegeneous mixture of Hexamethylene tetramine and polymeric binder at 80/20 ratio
Binder type can be customized. Except SBR/TPR, others binders, such as EPDM,NBR also can be available for.
---
APPLICATION:
---
HEXA-80 is a weak alkaline accelerator for slow vulcanization.
Vulcanization reaction started as soon as HEXA was added in, with a slow rate and a high degree of cross-linking of the vulcanizate. Thiols,sulfenamides, thiurams and dithiocarbamates are activators and secondary accelerators to HEXA contained rubber compounds. As a formaldehyde donor, it is especially suitable to adhesion between rubber and metal or steel cord with resorcinol. It can not lead to blooming appearance normally
---
DOSAGE:
---
0.6-0.8phr with 3-4phr sulfur as a main accelerator of thick-walled products.
1.3-1.6phr with 2.5-3.2phr Resorcinol-80 in adhesion system as a formaldehyde donor.
---
PACKING & STORAGE:
---
Net weight 25kg/PE bags lined carton; Net weight 600 kg/pallet.
Shelf-life:12 months in its original packaging.
Stored in a dry and cool place.