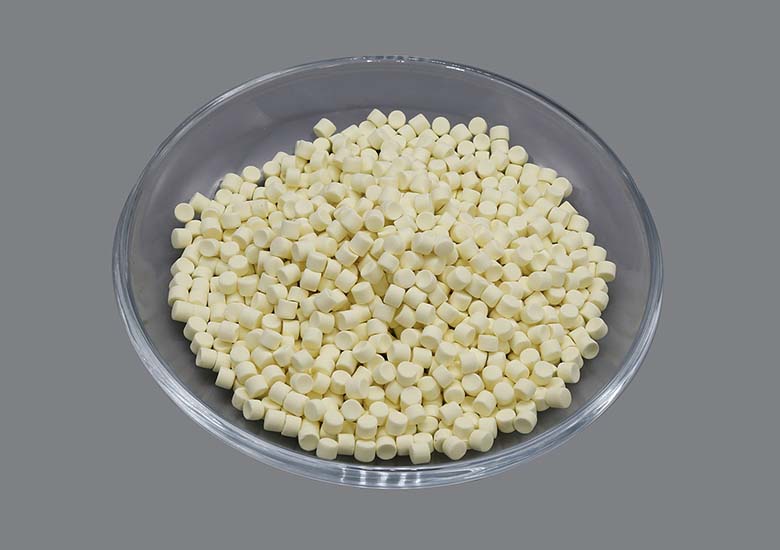 ---
Rubber Accelerator DPTU-80
---
CHEMICAL NAME:
1,3-Diphenyl-2-thiourea
MOLECULAR FORMULA:
C
13
H
12
N
2
S
MOLECULAR WEIGHT:
228.31
CAS NO:
102-08-9
CHEMICAL STRUCTURE:

Active Content(%)
80
Carrier
EPDM
Appearance
Grey Granules
Melting Point
148℃ min
Mesh
100
Ash Content
0.3%  max
Mooney Viscosity ML1+4 50℃
≤50
Heating Loss Content
0.3% max
Sulfur Element(%)
11.5
63µm Sieve Residue
0.5% max
Density(g/Cm³)
1.2
Composition
A homogeneous mixture of 1, 3-Diphenyl-2-thiourea and polymeric binder at 80/20 ratio
Binder type can be customized. Except EPDM, others binders, such as SBR,NBR also can be available for.
---
APPLICATION:
---
DPTU-80 is a rapid vulcanization accelerator, sulfide critical temperature is 80℃, it is important to note that avoid scorching when mixed. DPTU has a higher activity when temperature above 100℃. The product is tenacity, have a good tensile strength and flexible, but will change color in the light.
---
DOSAGE:
---
0.2-1.0 phr usually.
---
PACKING & STORAGE:
---
Net weight 25kg/PE bags lined carton; Net weight 600 kg/pallet.
Shelf-life:12 months in its original packaging.
Stored in a dry and cool place.