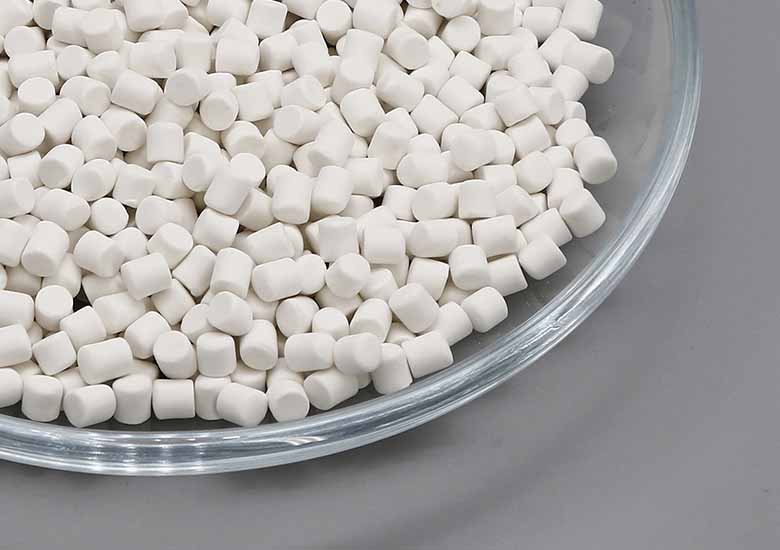 ---
Rubber Accelerator DPG-80
---
CHEMICAL NAME:
N,N'-Diphenylguanidine
MOLECULAR FORMULA:
C
13
H
13
N
3
MOLECULAR WEIGHT:
211.27
CAS NO:
102-06-7
CHEMICAL STRUCTURE:

Active Content(%)
80
Carrier
SBR/TPR
Appearance
Grey-White Granules
Melting Point
144℃ min
Mesh
100
Ash Content
0.4% max
Mooney Viscosity ML1+4 50℃
≤90
Volatile Content
0.3% max
Nitrogen Content(%)
15
63µm Sieve Residue
0.5% max
Density(g/Cm³)
1.05
Composition
Mixture of 80% N, N'-diphenylguanidine and 20% polymer and dispersing agent
Binder type can be customized. Except SBR/TPR, others binders, such as EPDM,NBR also can be available for.
---
APPLICATION:
---
DPG-80 is a accelerator of natural rubbers and synthetic rubbers, which can as together with sulfenamide type accelerators. It is very suitable for thick articles, such as tread and silica compounds, which will obtain evenness of curing state.
---
DOSAGE:
---
Primary accelerator: 1-2phr with 2.5-3.5phr sulfur.
Secondary accelerator: 0.1-0.25phr with 0.75-1 thiols accelerators and 2.5phr sulfur
---
PACKING & STORAGE:
---
Net weight 25kg/PE bags lined carton; Net weight 600 kg/pallet.
Shelf-life:12 months in its original packaging.
Stored in a dry and cool place.