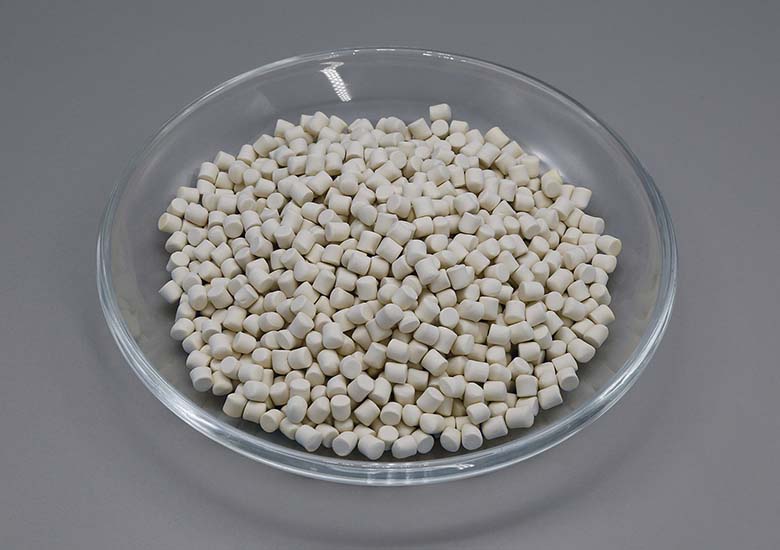 ---
Rubber Accelerator DETU-80
---
CHEMICAL NAME:
N, N'-Diethylthiourea
MOLECULAR FORMULA:
C
5
H
12
N
2
S
MOLECULAR WEIGHT:
132.23
CAS NO.:
105-55-5
CHEMICAL STRUCTURE:

Active Content(%)
80
Carrier
SBR
Appearance
Light Yellow Granules
Initial Melting Point
72℃ min
Sulfur Element(%)
19
Ash Content
0.3% max
Density(g/Cm³)
1.1
Heating Loss Content
0.3% max
63µm Sieve Residue
0.5% max
Purity
98%min
Composition
Mixture of 80% N, N'-Diethylthiourea and 20% polymer and dispersing agent
※Binder type can be customized. Except SBR, others binders, such as EPDM, NBR also can be available for.
---
PROPERTIES:
---
DETU especially suitable for CR continuous fast curing. It has promote faster effect that combined use with DETU, MBTS and DOTG, but may cause scorching, Heat aging and merchanical properties of vulcanized rubber is excellent, non-blooming.
---
APPLICATION:
---
All kinds of neoprene rubber products. Such as synchronous belt, V belt and other mold, injection molding and extrusion products.
---
DOSAGE:
---
0.1-2phr usually. Can be combined used 1phr of MBTS-75 and 1pr DOTG-75.
---
PACKING STORAGE & TRANSPORTATION:
---
Net weight 25kg/PE bags lined carton; Net weight 600kg/pallet.
Shelf-life: 1 year in its original packaging.
Stored in a dry and cool place.