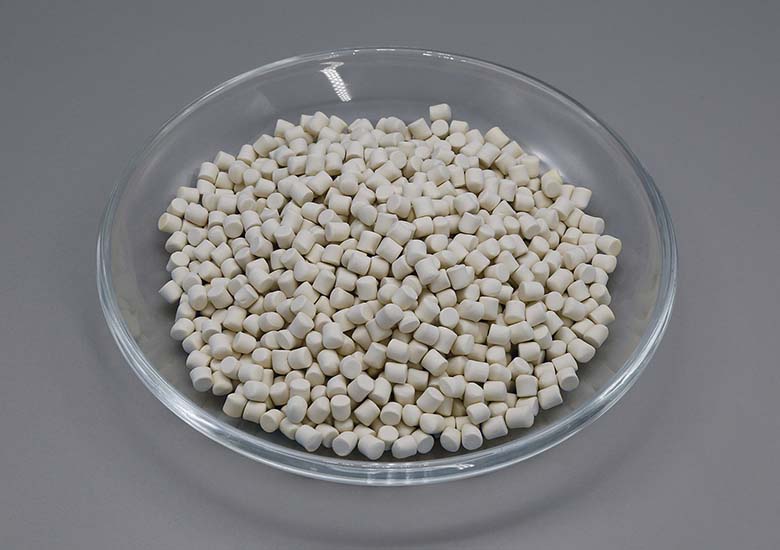 ---
Rubber Accelerator CBS-80
---
CHEMICAL NAME:
N-Cyclohexy-2-benzothiazole sulfenamide
MOLECULAR FORMULA:
C
13
H
16
N
2
S
2
CAS NO:
95-33-0
CHEMICAL STRUCTURE:

Active Content(%)
80
Carrier
SBR
Appearance
Grey-White To Light Yellow Granules
Melting Point
96℃ min
Mush
100
Free Amine Content
0.5% max
Mooney Viscosity ML1+4 50℃
≤50
Ash Content(950℃,2h)
0.4% max
Sulfur Element
19
Volatile Content
0.5% max
Density(g/Cm³)
1.05
63µm Sieve Residue
0.5% max
Composition
A homogeneous mixture of dipentamethylene thiuram tetrasulphide and polymeric binder at 70/30 ratio
Binder type can be customized. Except SBR/TPR, others binders, such as EPDM,NBR also can be available for.
---
APPLICATION:
---
Vulcanization accelerator CBS can prolong the scorching time of rubber compounds, high processing safety and fast vulcanization rate.
It can be used alone in low-sulfur vulcanization, might as well be used together with dithiocarbamates or thiurams.
Its vulcanizate has excellent properties of anti-aging and compression set resistance. It can obviously shorten the scorching time of rubber compounds together with dithiocarbamates and thiurams.
Thioureas have an obvious effect on secondary acceleration to CBS, especially in the low-sulfur rubber compounds.
It can delay scorching and improve processing safety in thiols and thiurams rubber compounds.
---
DOSAGE:
---
For NR: primary accelerator:0.5-1.0phr with 2.5-3.5phr sulfur.
For SBR: 1.0-1.5phr combine with 0-0.2 thiurams accelerators and 1.5-2.5phr sulfur.
---
PACKING & STORAGE:
---
Net weight 25kg/PE bags lined carton; Net weight 600 kg/pallet.
Shelf-life:12 months in its original packaging.
Stored in a dry and cool place.