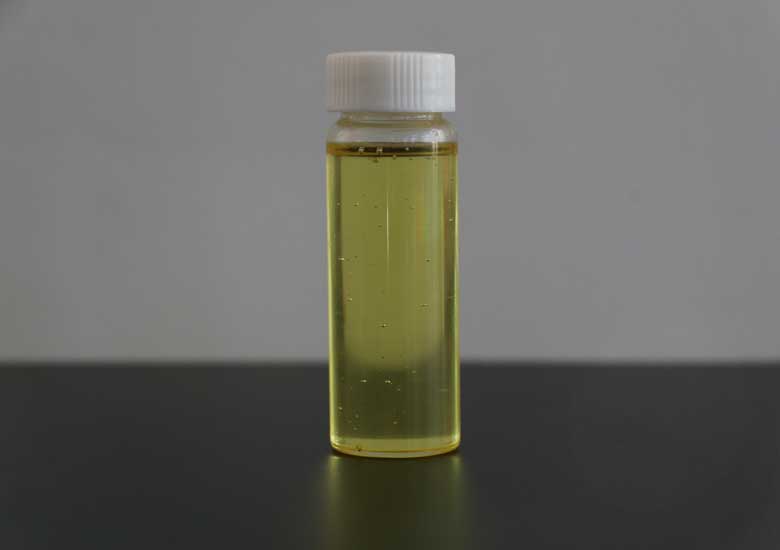 ---
DMTDA
---
CHEMICAL NAME: Dimethyl Thio-TolueneDiamine; DMTDA
CAS NO: 06264-79-3
MOLECULAR FORMULA: C9H14N2S2
MOLECULAR WEIGHT: 214.34

| | |
| --- | --- |
| Appearance | Light yellow thick liquid |
| Diamine Content % | ≥95 |
| TDA Content % | ≤1.00 |
| Water Content % | ≤0.10 |
| Amine Value mgKOH/g | 520-540 |
| Color value | ≤9 |
---
USES:
---
DMTDA is a new PU elastomer curing cross-linking agent, equivalent to Ethancure300, including 2 kinds of isomers, that is, the mixture of 2,4- and 2,6- DMTDA (proportion: 77~/17~20) .
Compared with commonly-used MOCA, it is a kind of relatively low-viscosity liquid, applied to the construction operation under the low temperature, with the advantage of low chemical equivalent, etc.
DMTDA is an eco-friendly low-toxicity liquid diamine chain extender, mainly applied to RIM (reaction injection moulding) PU elastomer, SPUA (sprayed polyurea elastomer) and adhesive agent. It also can be used as the epoxy resin curing agent, and is widely applied to PU rubber roll, medicine, punch forming, etc.
Moreover, it also can be applied to automobile, building, coal mine, metal mine, textile, paper-making and printing. The curing velocity of DMTDA is much slower than that of DETDA. It can be mixed with DETDA with different mixing ratios, and adjusted the curing velocity to meet various demands.
---
PACKING:
---
200kg net/ iron drum; 1000kg net/IBC and Isotank